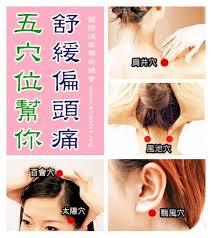 Everyone may have headaches. But migraine is not only a bad headache. It is an extremely nerve pain and usually lasting from hours to days. Symptom may include visual disturbances, nausea, vomiting, dizziness, and tingling or numbness in the specific area. There are a lot of trigger which people thought which may cause the migraine, everyone is different. Usually people intake or inject pain relief medicine to help, however, Acupuncture may has better way to help.
According Traditional Chinese Medicine, there are some kind usually seen(everyone is different, can not cover all of them):
Liver and Kidney Channel deficiency:
The pain is not extremely strong, but takes long time. The patient may also has lower back issue, weak leg and some woman may have irregular menstruation.
Phlegm stagnation:
The pain may not strong, but feel like something covered the head or heavy feeling , may occur vomit , dizzy, visual disturbances...
Liver Channel stagnation:
The pain is very strong, may company with irritate, dizzy, redness of face or eyes, sleep issue.
Acupuncture treatment can help the migraine not only help during the attacking but also help in prevention, and there is not side effect on this kind of treatment too. Hope this information help you someway.